Speed Painting – 6 Tips for Being Faster and More Profitable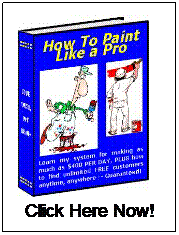 Speed painting can be anything that you can use to turn your jobs faster and even to make the profits roll in faster and in bigger amounts. Basically speed is a tool just like automation is to factories.
1. Spraying – having a spray painting system can dramatically speed up your productivity. They have paint roller attachments as well. An airless sprayer is what you will be using. Some painters have one for stains, one for clear varnishes and a larger one for paint.
2. Having a painting business partner – a reliable business partner is a big plus. Two business partners working together can accomplish great things. Not only can they turn their jobs quicker, they can come up with great ideas and a great system.
3. Using employees or sub-contractors – leveraging your time by having others do the work for you is how you can make bigger money faster. You can make a substantial hourly profit on each employee or painter that you have.
They do the work, you do the estimates and line the jobs up. You pay them $10 - $15 per hour depending on their skill and you make an additional $10 or more per hour profit for each painter you can keep busy. You are leveraging and multiplying your time.
4. Speed rollers – it's amazing how much you can get done by cutting in with a brush and a speed roller at the same time. You can zap out closets, exterior siding, decking, etc. and use less paint at the same time.
5. Doing prep work between coats – this is powerful. When I was new at painting I use to take a long time doing prep work not knowing when I was really ready to paint.
By giving the walls and ceiling a quick sand using a pole sander and adding a first coat of paint you can tell right away what will need fixing after the paint dries. Paint doesn't hide a multitude of sins, it exposes them! Auto body repairman use this technique all the time with a special sand-able primer.
I do this with woodwork, windows and doors also providing they are in good condition and don't have unsound paint. I will give them a light sand, dust them down and prime them up. Once dry, any defects I see I fix with wood patch.
6. Planning ahead - see or visualize getting the job done. Picture what you have to do and even beginning the next phase of the project. This really does help get jobs done faster. It's the difference between driving a car while staring down at the road in front of you and looking 10 car lengths ahead. See and feel the speed painting!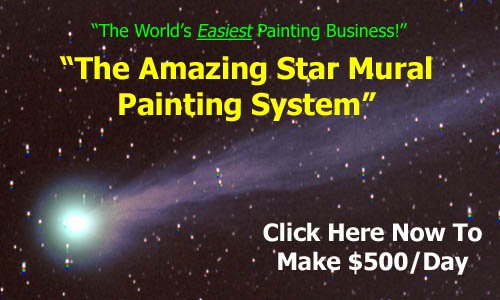 Did you find this article helpful for speed painting? Click here for more related info.