Painting Wall – How To Make Ultimate Profits Doing It.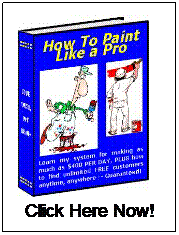 Painting wall – you and I both know that the average homeowner does al least some of their own painting themselves. Also many new homeowners have that vision of fixing up their dream home. It's like a hobby for the weekend.
Now if you know anyone who isn't a do-it-yourselfer or a new homeowner with a dream but needs painting done, you can still lose out on the painting estimate if they think you charge too high.
The fact is, most painters don't charge enough, yet their bid is still considered too high by many. Painting doesn't always command high profits. Again, many people do it themselves. Others "think" they know how to paint. And there are others who would rather pay someone else to do the painting for them.
Yet they still don't think painting is worth as much as they would be willing to pay an electrician or a plumber to come in and do some work. I suspect that this is because they don't foresee all the prep work involved in a professional or custom paint job.
This is because they are NOT painters themselves. They don't understand how time consuming a painting project can be. Hey, everyone thinks they know how to paint right?
Here is how you can combat this. If you are a house painter you can aim for more skilled jobs. Projects like staining and varnishing, faux painting, mural painting and drywall texturing. Even drywall and plaster repair. Exterior work, high work etc.
These types of niche painting projects command higher prices because people don't know how to do them and they are scared to even try. This is how I can make $30 - $70 per hour. Instead of only $20 or $25 an hour as a small one or two-man painting operation.
I get my higher wages with murals and drywall repair. Maybe you are a gifted faux painter. Maybe you specialize in high work or commercial/industrial work. Whatever type of specialized painting you are good at know that you can capitalize on it because this is where the DIY crowd (do-it-yourselfers) and you the real painter part company. This is where the "anyone can paint this" mentality splits the scene.
This is where "specialists" ride high over the low-ballers or under-bidders. They only know basic painting so when it comes to specializing in staining, drywall/plaster repair, faux or mural painting they can't compete because they just don't know anything.
Sure you can still run your main painting business, but having a specialization is an ace card up your sleeve. It gives you bigger, sharper teeth and claws to hunt with. End of painting wall article.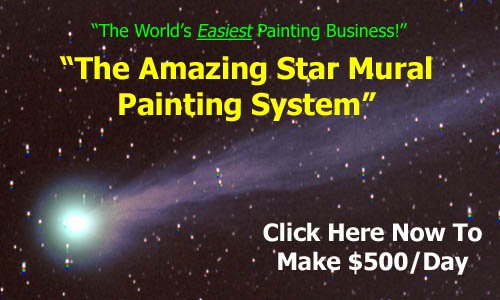 Did you find this article helpful for painting wall? Click here for more related info.