Painting courses – When you think of these types of courses you the first thing that probably comes to mid is "artist courses" like watercolor or oil painting. You probably would not consider a house painter as an artist. There are some house painters believe it or not that actually do have some talent.
As a painter/craftsman I have several courses available to help new painters enter the field and develop their techniques as well as run a profitable painting business.

Two of my courses listed below are for estimating and advertising a painting business complete with on-the-job examples to help you learn estimating and tun your jobs faster. The last course listed below is a more artistic novelty-painting course.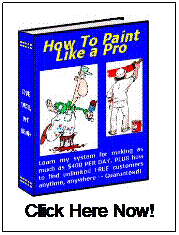 Three Ways To Succeed As A Painter:

1. Paint Like a Pro – a complete course for painters on estimating and advertising. Also included is a bonus drywall/plaster repair course that shows how to make $30 - $70/hr doing small repair jobs from time to time.

2. Bid Like a Pro – the same course as Paint Like a Pro only with a different name. It is geared toward painters who are sick and tired of losing money on their paint jobs and want a simple to follow estimating system.

3. Sci-fi Ceilings® - "The Amazing Star Mural Painting System" - "The Amazing Star Mural Painting System" – this course explains by example all the tools and techniques needed to create exciting star murals plus how to get customers and how much to charge.

All 3 courses have color photos showing real on-the-job examples as well as everything else needed to make money as a painter. New artists or painters cannot go wrong by ordering these courses. They have everything needed to operate your new painting company right away.

The amazing star mural course is our flagship product and is a real value at our special limited-time offer price. It is a perfect way to make $30 - $70/hr and MORE in the specialty painting trade.