Painting brick fireplaces is not hard. As a professional painter I have painted quite a few. While I don't like to paint nice looking brick, ugly brick or already been painted brick is O.K. to paint.
So far when it comes to brick fireplaces the painted ones have always been just ordinary looking. Noting to really get excited about.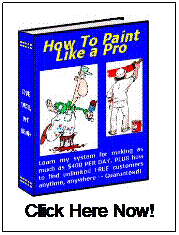 I once had an interior decorator send me to someone's home that had beautiful cherry brick. While the interior decorator was a paint everything freak (God love her), I talked the homeowner out of painting it (wasn't hard to do).
To me, painting beautiful brick is a true crime. I only recommend painting it if it has already been painted or if the brick is just plain ugly.
Anyway here are some tips to help you paint your
fireplace:
1. Clean the area as much as possible. Move the steel grate and any other things out of the way. Clean and vacuum the area.
2. Prime the brick with an interior/exterior oil base primer. The oil base will stop any bleed through of hard to get off stains due to soot.
3. Paint the brick with an oil base or latex enamel interior or exterior house paint.
4. Do 2 coats of paint over the primer if needed.
5. Use a mini-roller with a thicker nap and a paintbrush. I like to use a Wooster JUMBO-KOTER® FRAME and JUMBO-KOTER® SUPER/FAB® mini-roller (speed roller). They are available at most paint stores.
Go here to see them:
http://www.woosterbrush.com
Here is a cool idea for painting your fireplace brick:
http://www.brick-anew.com/