Interior Paint - Several Tips for Choosing the Right Interior Paints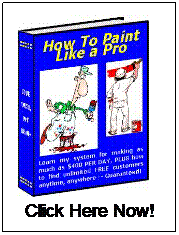 When it comes to interior paint, if you want to give your home the very best, or if you are wanting to start your own painting business you may want to consider exactly which interior paints to use for your projects.

As a professional painter I know the time saving value of getting to know your products. When you find which products work best for you and how they perform you will be able to turn your jobs all that much faster with less headaches.
Below are some tips to help you do a professional job at home or on the job site.
1.) Which Brand to Use - Play it safe. Always use the best quality paints and primers. Don't show up at someone's doorstep with humdrum brands. Instead pretend you are going to be painting a multimillion dollar home. Now what name brand of house paint would you choose?
* ©1996 - 2009 Benjamin Moore & Co.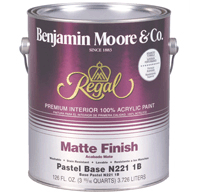 Not everyone may agree on the same brands of course. Don't skimp on your own home either. After all, a man's home is his castle! They only exception is if you are doing properties or commercial work where quality may not matter as much.
2.) What to Use on Interior Walls - I like using a "Matt" finish. Matt finish is a lower sheen than eggshell, yet very washable, very architectural looking. Benjamin Moore has a nice Matt finish in their "Regal" line that is super washable and won't burnish when scrubbed.
3.) What to Use on Ceilings - the best interior house paint I ever used on ceilings is actually a primer made by Porter Paints called "Blanket" (PP 1129). It is basically a high hiding solid white block out primer.
While nobody would even think of using a primer as a ceiling paint, this stuff works! It leaves a soft, pure white, flat even finish with no streaks or lap lines. You can tint it to whatever color you want. It also makes a great block out primer.
The benefits to using this solid white primer on ceilings are being that it is a primer, it grabs to any surface. It dries and can be re-coated in just one hour and coverage is about 150 square feet more per gallon than regular paint. And spreads way better than the regular ceiling coatings. One last point is that you can tell where you have to roll on the second coat because the first coat over looks like a primer coat.
4.) Woodwork Paint - in the old days up till the early 90's, alkyd or oil base enamels in the "satin finish" were the norm for woodwork. Benjamin Moore "Satin Impervo®" in the alkyd formula is still a market leader. Since the 90's the government has cracked down on V.O.C.'s (volatile organic compounds) and some alkyd formulas may not be as fun to paint with as they used to be (some of the good stuff has been taken out of the paint).
Fortunately Satin Impervo now comes in a latex formula that is so awesome I don't want to paint woodwork with anything else. It feels and levels like alkyd enamel should. I also use their Fresh Start® All Purpose 100% Acrylic Primer 023 as my enamel under coater.
Sherwin Williams also has a good alkyd enamel called ProClassic® Alkyd and their PrepRite® Classic Primer which is also alkyd base and is an enamel under coater (holds gloss) is also a good choice. Both are also available in a latex formula as well.
Have A Great Story or Some Pictures about Custom Painting?
Do you have some great pics to share? Post them here along with comments and your home page or website address even. I will make the URL live for you!
What Other Visitors Have Said
Click below to see contributions from other visitors to this page...

Duration and Cashmere Not rated yet
Has anyone tried the Duration interior coatings from Sherwin Williams? I highly recommend them for bathrooms, kitchens and hallways. Anywhere where …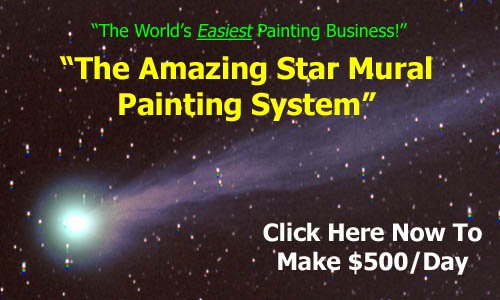 When it comes to Interior paint, every painter has different preferences. Location may be another factor.