Home painting tips – I am hoping that these small tips will help guide you in all your custom painting jobs. These are just a few of the details and techniques I have learned over the years.
1. White ceilings – people like a nice white ceiling with colored walls. Use a dead flat ceiling paint for a nice even look except in bathrooms and kitchens, then a washable finish is best. I like to apply one coat primer and one finish coat of ceiling paint.
2. Use flat or matte sheen for walls. Most wall paint is not a true flat but that is O.K. for walls.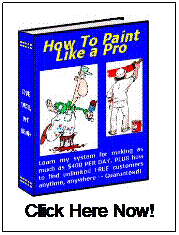 3. Prime before painting woodwork with enamel. It is always a good idea to prime the woodwork before painting with an enamel in case the previous finish was an oil base paint. This stops peeling and chipping.
4. Use silicon fortified painter's caulk to fill in gaps between coats. Before applying the finish coat to the walls I like to fill in any woodwork gaps between the wall and the woodwork. The only exception is if it is stained woodwork.
5. Always apply two coats of paint for best results. Wait 4 hours to re-coat. This gives the paint color a good solid look.
6. Lightly sand ceiling and walls before painting with a pole sander. This helps remove cobwebs and paint specks.
7. Fluorescent light helps for painting at night. It gives you a true white light.
8. Use lightweight drywall compound to fill cracks and holes. Use a 100-grit sand sponge to finish-sand them.
9. Buy a pan filter to filter your paint before rolling if it is a used gallon. This helps remove impurities like hair and dried paint clumps.
10. Use stain-blocking primer on bare wood. This stops water or wood sap stains from permeating through your paint finish.
Hope you liked these home painting tips.