Faux painting walls is almost like painting the walls the regular way. You have to do the prep work first. I add a primer coat first and then do my prep work after the primer or paint dries. Things like fill holes, patch cracks, etc.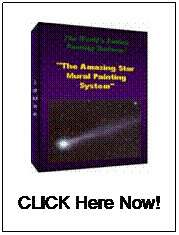 Doing it this way allows me to see the areas that need to be fixed or filled a whole lot easier. And when I am done I will roll over the fixed areas with a little more paint or primer. Lastly, I will add a second or finish coat of paint. This gives the wall a good solid look of color.
So The 4 Basic Steps For Faux Painting Success Are:
1.
Choose Your Pattern and Colors
– decide what colors and faux finish look you want to achieve.
2.
Practice Your Faux Technique
– once you decide on a pattern and color, get your paints and glaze together. Practice your faux design or pattern on a practice board or washable sheet of vinyl until you are confident you have it right.
3.
Prepare Your Walls
– add your base coat to the walls. Apply two coats for a good solid look.
4.
Prepare Your Glaze Mixture
(1 qt. of the paint color to 1 gal. of studio glaze) - and do your thing! Benjamin Moore has a great instructional brochure called "GLAZES Studio Finishes". Look in paint stores where Benjamin Moore products are sold.
Are you a faux beginner? Well, stay with it long enough and you will be a faux finisher!