When it comes to tile painting I'm tired of writing about that boring subject of painting your ceramic tiles to make them look better. As a professional housepainter I despise painting over certain things like wallpaper, linoleum, Formica, etc. and tiles is one of them. It makes me want to say,
"get a life!"
But one type of painting tile I do really dig is in the ceramics crafts area. It's still home improvement because these tiles are used to decorate kitchens, bathrooms and even swimming pools.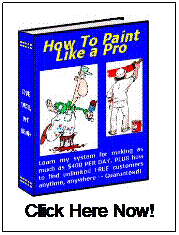 They are accent or decorator tiles. You will see them in a border or a few put here and there in a plain tile wall or floor to give it some personality.
The one neat thing I like about this type of painting ceramic tile is the fact that it is permanent. In other words you can get them wet all you want and nothing is going to come off. I believe the paint is baked onto the ceramic tile surface and comes out having the shiny glazed look. Perfect for swimming pools and showers!
The first time I saw this type of thing was from a customer. We re-finished all her kitchen cupboards and she went out and bought small plain white ceramic knobs for the cupboard doors.
She then took them somewhere and had them painted up with different designs and then they were glazed. She had permanently decorated doorknobs of various designs like nobody else had.
To give you an example of what I'm talking about, here is a company that paints ceramic tile as artwork for kitchens, bathrooms and swimming pools, etc. Its called
CitrusGlaze.com