A door painting system is basically a set up of the right painting tools. The right ones needed to do your doors as quickly and as professionally as possible. It can be a convenient set up for just a few doors or a time-saving system for painting a lot of doors quickly.
The most basic set-up for a shop or on the job site when it comes to new construction would be sets of metal boomerang-shaped corner brackets. These attach to the tops of the doors and line them upright in an accordion style to be painted all at once like a wall. Or you could use strips of wood and tack-strip the doors together from on top.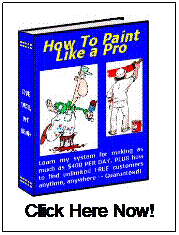 The system I use is for repaints, (which is basically residential/light commercial painting) is the brush and roller method. The door stays on the hinges. We use shed-resistant Wooster Speed Rollers that are made specifically for enamel finishes.
We take of the hardware like the doorknob, locks, kickplates, etc. We brush in the areas that need to be brushed in using a 2" sash brush and roll out the flat straight away areas. The doors look very nice when finished. We start with an enamel primer. You can top coat the door with an enamel paint after about an hour.
The other alternative for a door painting system (if you have a shop) is to take the doors home and spray them. This method can be used for doors, cupboards, cabinets, etc. Anything that needs to be sprayed or stained. The spray method is best for if you have a lot of doors and want to save man-hours manually brushing and rolling them.
Door trim paint
– use an enamel finish in either latex or alkyd.
Interior door paint
– use an enamel finish. I prefer the norm, which is a "satin" sheen. Semi-gloss is O.K. It's a bit "plastic-looking for me. Eggshell is acceptable in an alkyd finish but not in a latex finish.
Exterior door painting
– I like to use a quality latex enamel and do the brush and roll method unless it's stain and varnish. Then you just need to brush on the stain, wipe off the excess with a rag and use a clear varnish after 24 hours.
Spray painting door
– if done right, doors come out looking very nice. The secret is to have an area (for new construction you can set up a spray booth) or a small shop, garage, etc. to spray