Decorative painting done right can give you an almost euphoric feeling and even sell a home faster than anything else. Done right, it can be a quick, easy, low-cost way to fix up a property.
It can also be a way for you to get the most enjoyment out of your dream home by making it look good. You can maximize the years of pleasure owning and living in your home.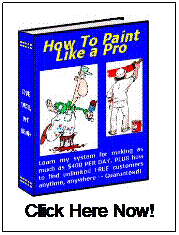 Many people only paint their interiors when they are selling it. As a painter, I never took time to give my own home a nice paint job but that's because I did it all day for a living (you know… the cobblers' kids have no shoes).
My wife, who worked with me on interior projects stayed home one summer and gave our bedroom and living room a nice custom paint job. She re-painted the ceilings, walls and woodwork just like we do for our customers. She used the best quality paints and primers.
For the first time in all my years of painting I was able to enjoy one of our custom paint jobs. I loved lying in bed at night with the small lamp stand light on and gazing up at the nice clean white ceiling and smooth light pastel green walls and glistening white enameled woodwork.
If you have a nice home, you owe it to yourself to get the most out of it and to enjoy it with your loved ones to the max. A beautiful custom paint job is the ultimate. Below are two other awesome painting techniques...
1.
Custom Painting
- if done right it can make a house look absolutely awesome. Whether you are painting interior or exterior, choosing the right colors is the key. Match that along with quality paints, a little prep work done right and bingo - You are in for a real treat!
2.
Faux Painting
is absolutely beautiful when done right also. The neat thing is that the basic faux finishes or designs are easy to master. I love the color wash look. A real good, talented, faux painter can work magic in your or their own home.
3.
Murals done right are awesome as well
. They are not that hard to create either. (for more details on creating murals see my article here:
www.betterpaintingtips.com/muralpainting
). It's the designs and colors that make murals awesome as well. They can be done on walls, large canvas and even ceilings. They can even be done with super phosphorescent paint –
see AmazingStarMurals.com
Picture your master bedroom completely re-painted or remodeled and the finishing touch is an awesome Milky Way scene stretching across your bedroom ceiling – invisible by day but alive all during the night!